ABOUT HEARD COUNTY
Heard County is located in the west central region of Georgia, just 55 minutes southwest of Atlanta's Hartsfield-Jackson International Airport. A rural and tight knit community, Heard County's population is 11,834, with a surrounding regional workforce of 45,000.
The county seat of Franklin is located at the intersection of three major thoroughfares: U.S. 27, Georgia 34 and Georgia 100.  Heard County is centrally located between Carrollton, Newnan, LaGrange, Hogansville and Roanoke, Alabama.
There is scenic beauty throughout the county including West Point Lake and the Chattahoochee River with its various shoals, plus hillside views atop Blackjack Mountain near Ephesus, numerous streams, panoramic views from hilltops and vast granite rock outcroppings.
HIGHLY SKILLED WORKFORCE
AWARD-WINNING SCHOOL SYSTEM
HIGH QUALITY OF LIFE
Heard County, Georgia Is Positioned For Progress
55 acres of affordable and build-ready industrial land with all utilities.
Easy 25 mile access to four markets for customers & workforce.
25 minutes to corporate air service & 55 minutes to Hartsfield – Jackson Atlanta International Airport
35 minutes to I-85, I-20 or rail service via U.S. Hwy. 27.
Five hours to Port of Savannah.
Easy, one-hour drive to major markets – Atlanta and Columbus, Georgia.
20 minutes to mid-size markets LaGrange, Carrollton, & Newnan, Georgia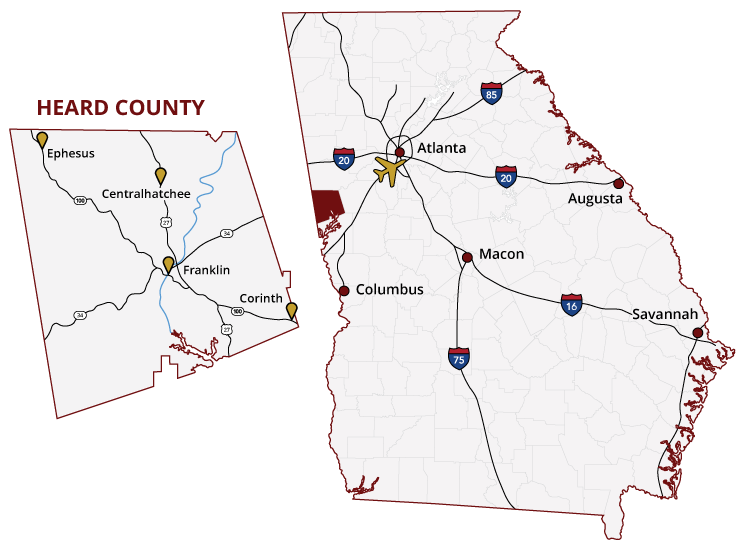 We have a special culture here in Heard County. Safe, family-oriented communities like Franklin, Ephesus and Centralhatchee are excellent places to call home with nearby hiking, biking and camping. The Chattahoochee River is an important part of our community with water trails and shoals adjacent to West Point Lake. The recently renovated Bush Head Shoals State Park is popular for kayaking, canoeing, rafting and camping. Other local attractions include Chattahoochee Bend State Park, Callaway Gardens, Little White House and Great Wolf Lodge Resort.
Also located in Heard County are a skate park, playgrounds, community centers, walking trails, equine trails and facilities, fishing, hunting and wildlife. A $15 million recreation facility hosts baseball and softball with league play. Local recreation opportunities also include football, cheerleading, basketball and volleyball.
The Development Authority of Heard County is committed to smart, sustainable growth — while maintaining our quality lifestyle and hometown charm.
The Development Authority of Heard County is prepared to negotiate the following incentives to new and expanding business and industry:
Bond Financing
Industrial Revenue Bond financing for new and expanding industry.
Property Tax Abatements
Flexible abatements for qualified projects.
Property Tax Exemptions
Property tax exemptions during an approved project's construction phase.
Fast Track Permitting
Fast track local permitting process in typically ten working days. The county may waive permit and licensing fees required for construction.
Grants and Loans
Grant and loan packaging for infrastructure improvements and/or building construction.
Potential Land Gift
Potential land gift for development with substantial job creation. Affordable public and private retail and industrial properties, lease-purchase and lease-back agreements.
Employers meeting State criteria may qualify for:
Job Tax Credits of $2,500 per job created.
Investment Tax Credits
Sales Tax Credits
Quality Jobs Tax Credits from $2,500 to $5,000
Port Tax Credits
Childcare Tax Credits
Work Opportunity Tax Credits from $1,200 to $9,600
Parolee Credits $2,500 per new parolee hired
Mega Project Tax Credit
R & D Tax Credits Proportionate to R & D spending.
Retraining Tax Credits
Film, TV & Digital Entertainment Tax Credits
Workforce Training through QuickStart
If you have any questions regarding these incentives, please contact the Development Authority of Heard County office at (706) 675-0554.